Get most reliable way
to stay connected in Thailand
Get most reliable way to stay connected in Thailand
Select your perfect data plans to enjoy 4G LTE

4.97 999+ sold

34.99

4.72 735 sold

24.99

4.50 658 sold

1.29
Multi-Country Plans cover multiple destinations
City Plans connect to the best local network
Our Local Network provides coverage
99% of time in Thailand
ESIMTHAILAND.COM offers reliable service on Dtac's network.
You'll enjoy 4G LTE speed data almost everywhere you travel in Thailand.
High-speed
4G LTE data
Experience an incredibly fast and reliable 4G LTE network for a smooth and uninterrupted internet connection.
Swift delivery
& Activation
Save time and avoid disruptions with our quick and hassle-free data activation.
Unlimited
Hotspot Access
Enjoy the freedom of unlimited hotspot usage. Share your data freely with your dear ones without any limitations.
Keep your original
phone number
Keep your current phone number and stay connected to your contacts while enjoying seamless data through our eSIM Solution.
No Contracts,
100% Prepaid
Experience the freedom of a prepaid eSIM with no complicated contracts. Rest assured, there are no unexpected auto-renewals or additional fees.
Affordable
& Clear Pricing
Say goodbye to pricey roaming charges and try out our transparent and affordable pricing, making it simple for you to manage your expenses.
Our 24/7 specialists are here to help you
Set out on your journey with confidence. Wherever you are in the world, our dedicated customer support team is ready to help you through email.
| | |
| --- | --- |
| | Get help in just 5 minutes. |
| | Connect with live, human assistance, not an automated reply |
| | Get practical and real solutions from skilled experts. |
Customers love eSIM Thailand
ESIMTHAILAND.COM is the No.1 eSIM service company based in Thailand. As a digital SIM, an eSIM allows travelers to use a local data plan without switching a traditional SIM card.
Start your unforgettable Thailand adventure with ESIMTHAILAND.COM. We guarantee that you'll stay connected, whether you're exploring the grandeur of the Grand Palace in Bangkok or the natural beauty of Phi Phi Island. Do not miss the chance to share your favorite moments with your loved ones on social media platforms and treasure these memories forever.
Leave all your concerns behind, as our round-the-clock customer support is here to assist you throughout your entire trip. With our reliable and fast eSIM, we guarantee your trip will be nothing short of extraordinary. Begin planning your unforgettable adventure in Thailand today.
Is this your first experience with eSIM?
You can leave your worries behind when you're with us.
eSIM, which stands for embedded SIM, offers a convenient solution for travelers to access mobile data abroad without the need to remove their physical SIM cards. Our user-friendly eSIM data plans will be swiftly delivered to your email within 5 to 15 minutes following the completion of payment. This eliminates the need for travelers to endure the hassle of lining up for a physical SIM card. With eSIM, you have the option to retain your original physical SIM for receiving SMS and calls from your home country. Experience the benefits of eSIM with a simple QR code scan and begin your extraordinary journey with our exceptional eSIM data plans.
Verify whether your device is well-suited for our cutting-edge eSIM technology, offering a seamless connectivity solution. While most GSM-compatible devices can function with our eSIM, compatibility may vary depending on your location and carrier. For iOS devices, those released after the iPhone XR are generally suitable for our eSIM. However, devices manufactured in Hong Kong or China may not offer support for eSIM functionality. On the Android front, the latest models of Samsung Galaxy and Google Pixel phones are usually compatible with our eSIM, although compatibility may depend on the specific model, manufacturing location, and carrier. To ensure compatibility, please consult our comprehensive list of supported devices.
Apple iPhone
Compatible Device
iPhone 15, 15 Plus, 15 Pro, 15 Pro Max,
iPhone 14, 14 Plus, 14 Pro, 14 Pro Max,
iPhone SE3 (2022),
iPhone 13, 13 Pro, 13 Pro Max, 13 Mini,
iPhone 12, 12 Pro, 12 Pro Max, 12 Mini,
iPhone 11, 11 Pro, 11 Pro Max,
iPhone SE2 (2020),
iPhone XR, iPhone XS, XS Max
(Recommended iOS version: iOS 13.3 or later)
Incompatible Device
iPhone purchased from mainland China
iPhone purchased from Hong Kong and Macao (except for iPhone 13 mini, iPhone 12 mini, iPhone SE 2020, and iPhone XS)
Samsung Galaxy
Compatible Device
Galaxy S23 5G, S23 Ultra 5G, S23+ 5G,
Galaxy S22 5G, S22 Ultra 5G, S22+ 5G,
Galaxy S21 5G, S21 Ultra 5G, S21+ 5G,
Galaxy S20, S20+, S20 Ultra 5G,
Galaxy Note 20, Note 20 Ultra, Note 20 Ultra 5G,
Galaxy Note 20+, Note 20 FE, Note 20 FE 5G,
Galaxy Fold, Z Fold 2, Z Fold 3, Z Fold 4 5G, Z Fold 5,
Galaxy Z Flip, Z Flip 3 5G, Z Flip 4 5G, Z Flip 5
Incompatible Device
All Samsung S20 FE/S21 FE models
S20/S21 and Galaxy Z Flip 5G from USA
Note 20 Ultra and Galaxy Z Fold 2 from USA and Hong Kong
Google Pixel
Compatible Device
Pixel 7, 7Pro,
Pixel 6, 6a, 6Pro,
Pixel 5, 5a,
Pixel 4, 4a, 4XL,
Pixel 3, 3XL,
Pixel 3a, 3aXL
Incompatible Device
Pixel 3 models manufactured from Australia, Taiwan, and Japan
Pixel 3 models bought from US or Canadian carriers other than Sprint and Google Fi
Pixel 3a models bought in South East Asia and with Verizon service
Why eSIM over other choices?
Affordable alternative
for roaming

Time-saving and
convenient solution

Eco-friendly and
Earth-friendly!

Make a wise choice as a consumer by selecting a cost-effective alternative when compared to international roaming plans.
Don't line up for physical SIM or pocket Wi-Fi anymore. Your eSIM will be sent directly to your email.
Save the earth by choosing a plastic-free eSIM. You are actively participating in waste reduction and decreasing CO2 emissions.
Affordable alternative for roaming

Make a wise choice as a consumer by selecting a cost-effective alternative when compared to international roaming plans.
Time-saving and convenient solution

Don't line up for physical SIM or pocket Wi-Fi anymore. Your eSIM will be sent directly to your email.
Eco-friendly and Earth-friendly!

Save the earth by choosing a plastic-free eSIM. You are actively participating in waste reduction and decreasing CO2 emissions.
Get eSIM at your fingertips, Get ready for your trip!
Choose the plan that suits your travel needs and place an order.
Receive the QR code via email and instantly scan it to activate.
Have a light and enjoyable trip without any data concerns.
Is eSIM available in the Thailand?
Absolutely, eSIM is a great option in Thailand as long as you have a compatible and unlocked device.
You can check the list of supported models on our website, which is accessible here.
To figure out if your device is locked or unlocked, follow brand-specific instructions for your phone:
Go to [Settings] – [General] – [About] and scroll down.
If you see "Network Provider Lock – No SIM restrictions" and "Digital SIM – IMEI (number will appear)," your phone is compatible with eSIM.
If you see "SIM restrictions," your phone does not support eSIM.
Samsung & Google Devices:
Go to [Settings] – [Connections] – [Mobile networks].
Select [Networks operators]
If you see multiple available networks, your phone is likely unlocked and eSIM-compatible.
If only one result is displayed, or the option to search for networks is unavailable, your phone might be carrier-locked. In this case, you'll need to contact your domestic carrier to unlock your phone before using an eSIM.
Which eSIM is best for Thailand?
The most affordable and high-speed data plans on eSIM Thailand are available for purchase. We offer a diverse range of plans, spanning from global coverage to specific cities, with varying durations of validity.
Just follow straightforward, three simple steps to buy the perfect eSIM:
First, choose the data plan that best suits your travel needs.
Second, securely complete your payment using the trusted PayPal payment gateway.
Finally, receive your QR code via email in as little as 15 minutes.
Do the eSIM Thailand plans support voice calls and SMS?
The availability of a local number for calls and messages depends on the plan you purchase. To have a local number, consider the Fixed, Infinite, or City plans.
With the Fixed and City plans, you'll receive a complimentary 15-baht credit for calls and SMS, which can be topped up when depleted.
The Infinite plan offers unlimited calls to all networks in Thailand and also includes a 15-baht free credit for calls and SMS.
When should I buy and activate the eSIM?
You have the flexibility to purchase the eSIM at your convenience. However, be careful with installing it as the validity period varies depending on the plan.
For Fixed, Infinite, and city plans, the validity period begins immediately upon eSIM installation on your device.
For Unlimited and Multi-Country plans, the validity period begins as soon as the eSIM is connected to the local network. Therefore, we recommend you install the eSIM before you leave for your destination.

Strong Wi-Fi Connection: To ensure a seamless eSIM activation, it's important to have a dependable internet connection. By activating your eSIM before your trip, you do not need to hunt for Wi-Fi, guaranteeing a hassle-free experience.
Validity Period: The countdown for plan validity initiates as soon as the eSIM connects to the local network. You have the option to scan the QR code and install the eSIM in advance. Keep in mind that 24 hours is counted as 1 day, and this counting begins continuously from the moment of service activation.
Can I reinstall the eSIM?
Once an eSIM plan has been installed, it cannot be reinstalled or reissued. If you encounter any issues, we kindly request that you refrain from deleting the eSIM. Instead, we strongly encourage you to contact us first at hello@esimworld.net.
How can I monitor my data balance?
Certainly, you can effortlessly keep track of your data consumption by accessing your device's Settings. However, for precise data usage details, please get in touch with us at hello@esimworld.net.
The procedure varies depending on your device's manufacturer:
Open [Settings]
Go to [Cellular/Mobile Data]
The amount of data used can be found under "Current Period Roaming".
Alternatively, you can visit the Apple website here for more detailed instructions. Another option is to dial

101

9# and place a call to see your data usage.
Go to [Settings] – [Connections]
Tap [Data usage]
The amount of mobile data you have used will be displayed.
Alternatively, you can also dial

101

9# and call to check your data usage.
Go to [Settings] – [Network & Internet] – [Internet]
Next to your operator, tap [Settings]
At the top, you'll see the total data you have used.
How can I get support from eSIM World Team?
If you need assistance or have any questions, please feel free to reach out to us at hello@esimworld.net. Our dedicated customer support team is available around the clock.
Don't hesitate to contact us, and we'll be more than happy to help with any concerns or inquiries regarding your eSIM plan or usage.
Do I need to turn on data roaming for eSIM?
When utilizing the eSIM plan, it's essential to activate data roaming for the secondary line (the eSIM plan you've added). To enable data roaming, follow these steps:
Go to [Settings] – [Cellular]
Select [Secondary] (the eSIM plan you've added)
Ensure [Data Roaming] is switched to the ON position
Furthermore, to avoid incurring extra charges, it's crucial to disable the automatic switching of lines as per the instructions below. Here's how you can accomplish this on Apple Devices:
Go to [Settings] – [Cellular]
Tap [Cellular Data]
Confirm that [Allow Cellular Data Switching] is turned OFF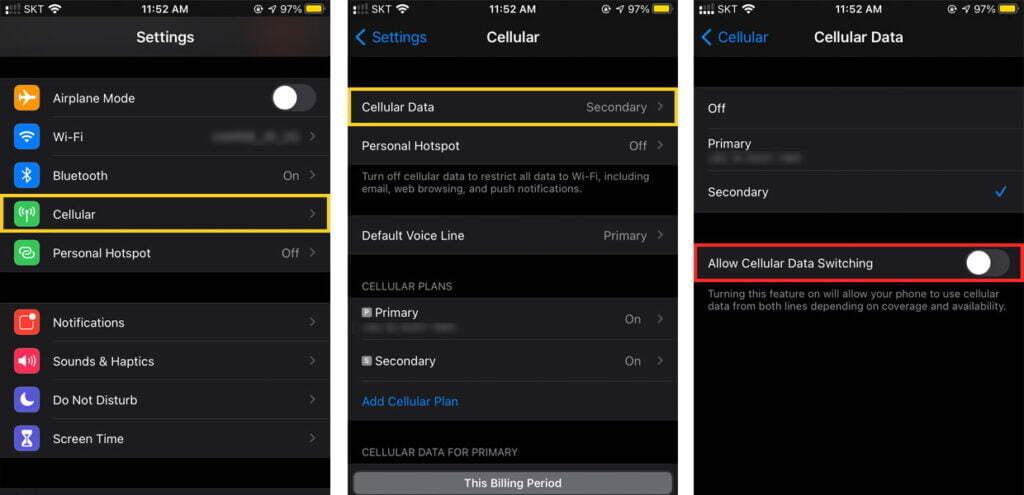 Moreover, we highly advise that you check with your domestic carrier to see if they offer "Blocked charged international roaming" services. This ensures you have the most appropriate data options when using the eSIM plan.
Which is the ideal eSIM package for Thailand?
Selecting the ideal eSIM package for your needs in Thailand involves considering factors like data requirements, coverage area, and the duration of your stay. Here are some options:
eSIM Thailand Unlimited Plans: These plans provide unlimited data at reduced speeds (384 kbps) once you've used up your high-speed 4G LTE data, with various validities from 1 to 30 days.
eSIM Thailand Fixed Plans: These plans offer consistent 4G LTE/5G connectivity with data allowances ranging from 50GB to Infinite. Validities are available for 10 or 15 days, making them suitable for those who need a local number for calls and messages.
eSIM Sing-My-Thai Unlimited: Ideal for travelers visiting Thailand, Singapore, and Malaysia, providing coverage in all three countries.
Before making your decision, we recommend thoroughly reviewing the details and terms of each eSIM plan. If you need personalized assistance in choosing the perfect plan, don't hesitate to contact the eSIMWorld team at hello@esimworld.net.
How long should I wait for the eSIM QR Code after payment?
Upon completing your payment, our QR code is automatically sent to the email address provided in the order form within 15 minutes. If you haven't received the eSIM QR code within 15 minutes, please follow these steps:
Check Your Spam or Promotion Folder: Your email may have been filtered into the spam or promotion folder. Please check these folders.
Contact Us for Assistance: You may have a typo in the email address you provided to us. In this case, please contact us at hello@esimworld.net, so we can resend it to you as soon as possible.
Payment Processing Delay: If you used iDEAL or a payment method other than PayPal, there may be a delay in the payment transfer to PayPal. The timeframe for this process depends on the payment gateways. We recommend contacting them directly for assistance.
PayPal Security Measures: In some cases, your payment might be pending due to PayPal's security checks, which can take up to 72 hours to complete. While the timeframe is uncertain, it is a part of PayPal's security policy. For assistance with this, please contact PayPal's customer service.
Please be aware that even if you paid with a credit or debit card, the payment is processed through PayPal, which may subject it to PayPal's security checks and possible pending status. It is advisable to reach out to PayPal's customer service for further assistance.
How can I confirm the activation status of my eSIM?
To ensure your eSIM is activated, you can rely on the following two indicators:
Check for eSIM Profiles: Access your device's eSIM settings, where you will find a list of available profiles or plans. If your eSIM is successfully activated, you will notice an active profile without a phone number listed among the available options.
Signal and Connectivity: Once your eSIM is activated and connected to a cellular network, you should see signal bars or connectivity indicators in your device's status bar. Additionally, you may spot the carrier name associated with the eSIM, confirming both its activation and network connection.
Should I turn off my original SIM?
We strongly advise turning off your original SIM to prevent incurring data roaming charges from your domestic carrier while utilizing the eSIM. Deactivating your original SIM ensures that your device solely relies on the eSIM for data connectivity in your travel destination.
However, if you still require the ability to receive calls and SMS on your home number when using the eSIM, you can keep the original SIM active. In such a scenario, we recommend disabling the "Automatic Cellular Data Switching" feature on your device. This precautionary step helps prevent unintentional data usage, ensuring that data traffic is directed through the eSIM plan rather than the original SIM.
What should be done if the message "No network" appears after eSIM plan activation?
If you encounter a "No network" message after successfully activating your eSIM, please follow these troubleshooting steps:
Enable Data Roaming: Ensure that [Data Roaming] is turned on for the eSIM plan. Typically, you can find this setting in your device's network or cellular configurations. Without data roaming enabled, your eSIM might be unable to connect to the network.
Restart Your Device: Try rebooting your phone to refresh the network settings and establish a connection with the eSIM network.
Try manual setting for APN/Network: You will receive instructions for setting them up after payment. Follow the provided instructions meticulously to input the accurate APN information into your device manually.
If these steps have been taken and issues persist, do not hesitate to reach out to our support team at hello@esimworld.net for further assistance.
Can I keep my Whatsapp number?
Certainly, you can retain your WhatsApp number, including all your conversations and contacts, when using an eSIM.
Can I request a refund after a purchase?
Unfortunately, we do not provide refunds for eSIMs that have been activated and utilized for data. Once the eSIM has been activated, and data consumption has occurred, it falls within the scope of our policy, which does not allow for refunds in these cases. We strongly urge customers to carefully review their plan details before proceeding to avoid any possible inconveniences.